All right, gotdamit, this is bullshit! And it's time I did something about it. It has been going on for years.
It's time Barnacle lost weight and got into some shape other than round.
OK, I know I've had a beer gut for years now, and I also know it's because I drink a lot of beer and don't get much, if any exercise. Back in '98, while I was trying to keep up with the 2 Mayan boys who were clearing our lot, I was looking about right for my size. Then the work was finished and I had time for more beers. Running this place now doesn't take much in the way of hard work, and I end up drinking beer with the guests.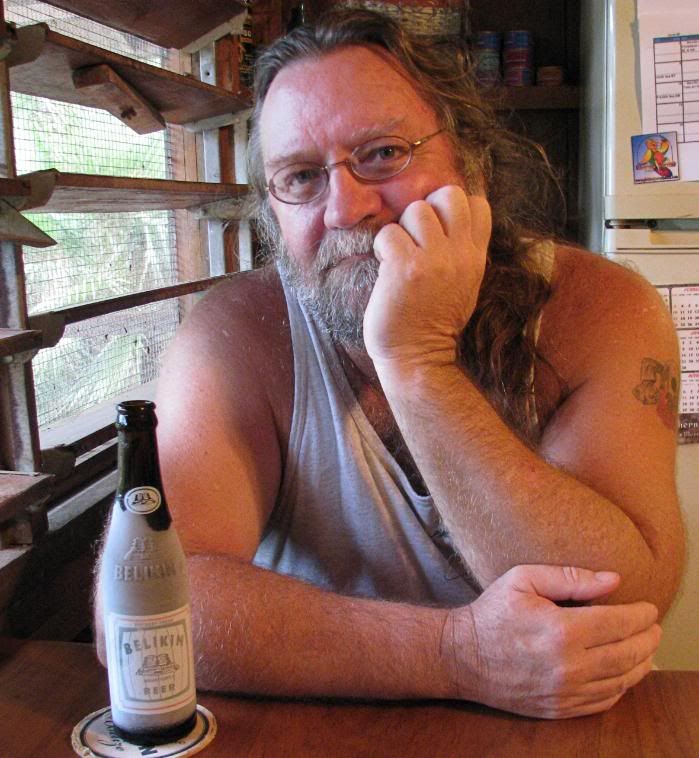 So now I have a beer gut, I am waaay over weight, and have suspected Gout in my Fred Flintstone foot (apparently caused by my current lifestyle). You can't drink this much beer and not expect something to go wrong. Plus I am just plain in a rut.
Just a few days ago, I saw Mrs. Barn look over at some buff, young, studly,, swivel around and glance at me, then turned her chair completely in his direction!
Something has to change.
I am serious about this! Eat better and maybe even less, more exercise including walking every time Mrs. Barn does, (as soon as my foot un-swells), cut way back on Barry Bowen's profits too. (Barry will be cryin)
Watch for the 'New and Improved Barnacle' coming to a
beach
barstool near you.
Thank you to those of you who gave advice concerning Flintstone Foot syndrome.
YABA-DABA-DOOO!
"I'm in the midst of a one-man intervention."