Just a couple things, then I'll leave you to your weekend.
Looks like it's gonna be months and months before the new temporary bridge is up. In the meantime, seems every time it rains the dirt bridge will wash away. It rained good here last night so I would not be surprised. At least they are real quick at dumping some new dirt on it when it does wash out.
(photo contributed by Doran)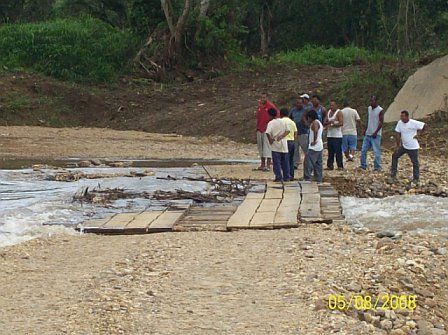 Still no trash pickup. Better buy some extra trash cans!
No post office either. Was closed most, if not all, of last week. Seems the guy is ill. And
apparently
, no other human bean in the area can replace him for a few days?
Hell, back when the P.O was in a little shack across from Olga's groceries, Adriane ran it for a day. Kept busy all day cleaning up the pigeon holes. There were 'T's in with the 'O's, 'A's with the 'R's,, a mess. Plus, had to evict a tarantula from the 'F' hole!
So to ease us into the weekend, I'll leave you with some of Adriane's recent photos.
See ya Monday!
(unless,, something earth shattering comes up of course)
"I could've eaten Alphabits and crapped out a better blog!!"