And yet another drive to town yesterday. The post office was open so that guy lived thru his illness.
Went to Wendy's for lunch. I tell ya what, she packs 'em in for the lunch crowd!
The menu is the same (as far as I can tell), prices did not increase either and a good staff. And in my opinion, she has the nicest restaurant in the village! Yesterday, the A.C. was a definite bonus!
Had to replace Julio's fridge for him. Bought our second Deawoo! Third really if you count the Deawoo microwave we also bought. Woo hoo for Deawoo!!
The stores were stocked up nice and we found most everything we needed.
Sidenote: at the everyday market, ask the little pregnant girl a question while she is munching on cookies. It's pretty funny to hear the reply. She can be tough for me to understand as it is, but with a mouthful of cookies,, forget it!
No sign of any road paving gear. But,, as we went north thru Siene Bight, we saw a rare sight!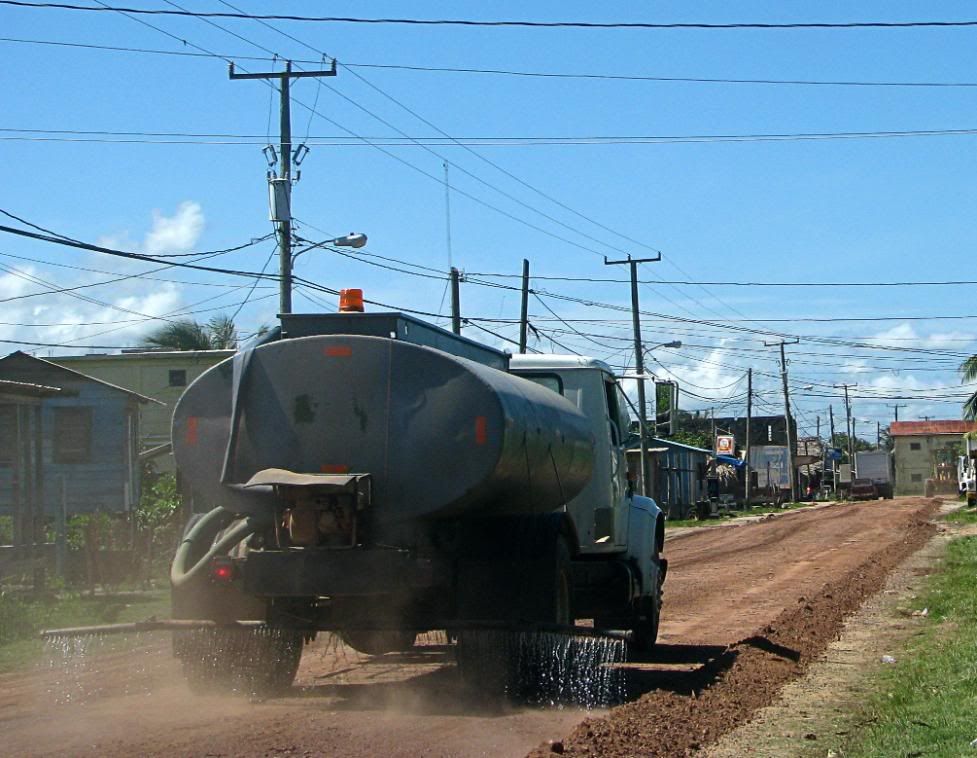 The grader had been scraping the road and now there was a sprinkler truck with him!?!? Rare indeed! We never had so much as a dog whizz on the road during the Cocoplum/Zeeboz dumptruck derby daze!
The timing seemed a bit odd since with all the rain,,, there ain't no dust?
We have some guests here who are having a blast with a rental gas golf cart. First time one has spent the night at our place. After seeing the crash a few weeks ago between cart and SUV, then reading today of the crash between cart and dump truck in San Pedro,,(resulting in a death) I hope they are careful.
Speaking of dump trucks,,, since the GOB put the caibosh on Reagan International, truck traffic has dropped way back. We did see them going into the 'back-a-der' area yesderday at a pretty good rate.
Rumor is Albert is going to move his operation off then peninsula. It is obvious he has outgrown the little spot he has. Hear it will be out on the southern somewhere.
There is buzz around the hood of residents and property owners of Maya Beach (from sign to sign) may try to form some sort of neighborhood alliance, for lack of a better word. Alberts idea, I'm told. To try and make sure M.B. doesn't go the way the rest of the peninsula is heading. We're on our own up here. We fall under Seine Bights rule, so as I said, we are on our own up here! I hear Albert even said 'to prevent things like what I did from happening"! Things to be looked into are trash clean-up on road, beach, and clear the parks and accesses. Discuss some sort of security. Try and make sure we have some say in village things such as where the speed bumps should be, a voice in what and how big is built here, shit like that. Should be interesting!
UPDATE: I am now told the draft beers at the little bar at Maya Breeze are really only 12 oz mugs! No matter what the bartender sez!
My 12 step program has an escalator, and a wet bar.