The season is just about to slow way down for us. Let's see what the past season of guests had to say about the fine dining establishments in the Republic of Maya Beach.
When I pick folks up at the airstrip I give them the nickel tour of Maya Beach before they check in. I go from the Maya Beach hotel south, so they know where all the hot spots are at.
I have to use their opinions as I can't form my own since we never go out to eat, almost never. Why you might ask,, we are just getting old, cranky, and set in our ways i suppose. Besides,, we think I cook just fine. Look at the belly I'm beginning to sport! That ain't all Belikin ya know.
First stop, Maya Beach Hotel.
John and Ellen have been successful since the day they opened. Their menu is unique for the area and draws a large following.
Happy hour sees quite a few cars in the lot with other folks arriving by foot.
We do actually make it in here about once a year and never leave disappointed. Adriane is a big fan of the Eggs Benedict.
And you never know when you will be asked to 'test' a new snack like, pumpkin habanero soup!
It is very rare someone has anything negative to say about Maya Beach Hotel.
Next up in the parade of chow halls, The Green Parrot.
A lot of our guests like to try all the spots for meals, and G.P finds its way into the rotation.
In general, people have mixed feelings. Some like it, some don't. Some say the portions leave them wanting more.
One person recently said the Hamburger he had was "terrible", while the rest of the group had nothing but praise for their fish dinners. (note: dodge the burgers!)
They don't have the local following that the M.B.Hotel does so when they are slow or empty, it can be rough to coax a dinner from them.
Let's place them in the middle of the scale in this review.
The new palapal bar at Maya Breeze Inn.
For some unknown reason, that has even defied the mathematicians at NASA, I have not been in this bar ,, yet? A beer source I have not visited? BLASHPHAMY!
But, as far as I know, they don't have anything to offer. Not even a beer sponge or two.
Beer Sponge: noun> to soak up beer. i.e. chips&dip. "pass them beer sponges over here."
But, did I mention I have never been there?
And away we go to Mango's.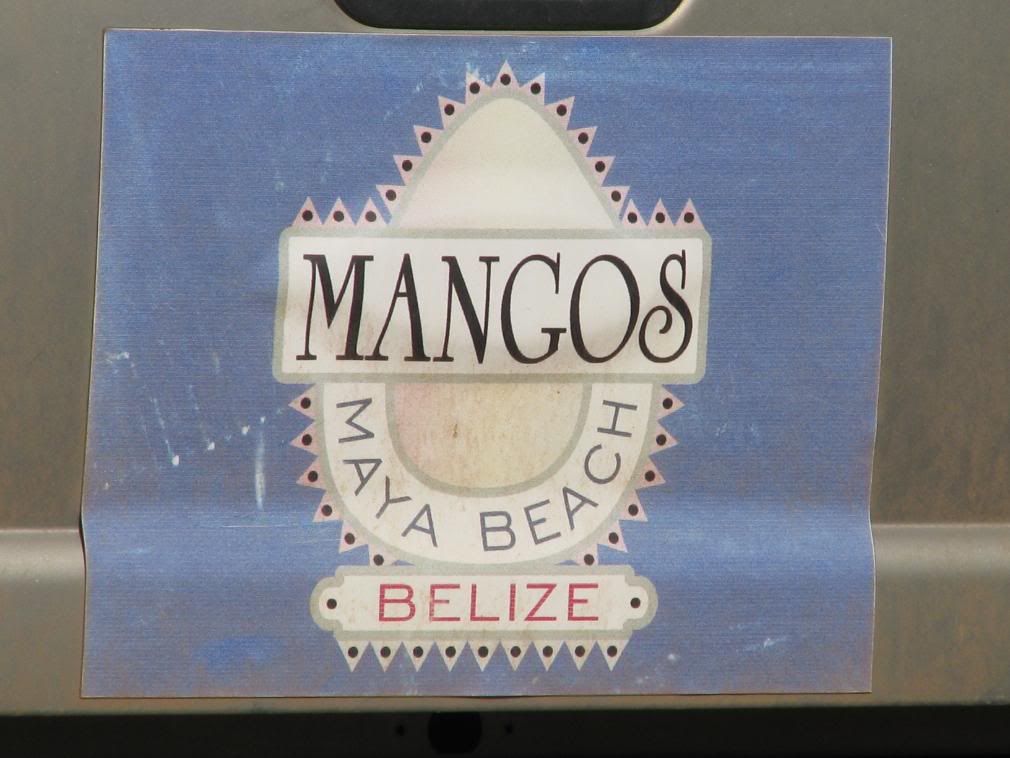 Great kitchen but you ain't getting so much as a tater chip out of it,, forget it!
Special occasions will see Klaus in there BBQ-ing some of his famous Mennonite ribs while all the rest of the fixins are also set out. These 'special occasions' draw a large crowd cuz dem ribs be BITCHIN!!
Across the road is The Frisky Frog Fast Food Fix.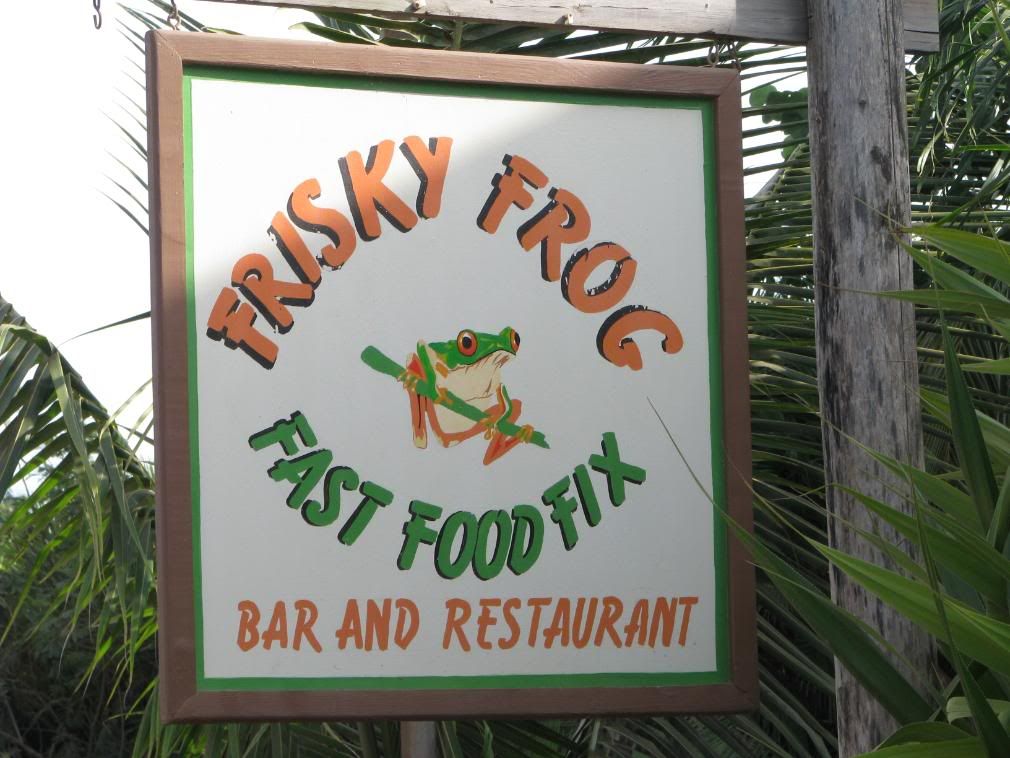 The first thing I hear is that the Frisky Frog Fast Food Fix is Far From Fast.
Be prepared to sit back and have a beer or 3 while your meal is friskly being fixed fast!?
Since our refrigerator croaked yesterday (R.I.P.), we had transferred all the food to an auxiliary fridge off site so cooking tonight's dinner would be tough. OK, good time to try out the Frisky Frog.
Can you tell the good roadside joints by the truckers lined up out front?
We were to meet some folks at Mango's so we placed our dinner order before going. I ordered the new ½ lb burger he has been bragging up with some fries. Adriane sees stewed chicken on the menu with rice and beans. We always like that! "Give us 2 stewed chickens please".
Some 2- 21/2 hours later we swing in on the ride home to grab the chow.
"Sorry, no stewed chicken. Here's a beef burrito instead, on the house."
He doesn't know that Adriane can't stand the ground beef here and could not eat more than a bite of the burrito.
I could not offer to swap her my burger either.
My burger was OK. I have heard guests claim it is the best burger they have had in their entire life, ENTIRE! I won't go that far, but it was good. The fries are great!
We will give it another shot one day soon.
When I mention the burgers and pizza to my guests with kids, the kids get all excited for sure!
Bouncing on down the road, it's Singing Sands.
Isabella is cooking there and as we all know, she is one fine cook. Nothing fancy and nothing 'north American' either.
When my guests arrive their first night, they have been traveling all day and S.S. is the closest easiest place to go eat. They end up going back many times during their visit.
She not only cooks great but interacts with the guests very well. She remembers things like little Johnny doesn't like onions and she keeps them off his plate. Things like that.
She will also make tortillas to go, dozen at a time if you like.
This has been a good season for rave reviews of Singing Sands kitchen!
And Isabella.
Lobsterfest is this weekend and we can sample the fares from all participants.
The new Austrian joint, Danube will have a booth. I just can't wait to try lobster schnoodles!
I read somewhere years ago that you couldn't get a good meal in Belize.
Well that's total horseshit!
I/we eat very well here thank you!
So to sum it all up, if you are starving in Maya Beach it's because you are STILL at Mango's! Go get something to eat. Mangos will wait for ya!!
"I have as much authority as the Pope. I just don't have as many people who believe it."